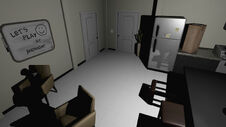 The Kitchen is a location in Emily Wants to Play. It is a standard kitchen with a counter, where Chester often is seen sitting on at 11 PM. There are also chairs (on one of which there is a laptop on Checkers Pizza's site thanking the customer for ordering the pizza) and a table as well as a writing board where there will be "tips" (excluding at 11 PM). These "tips" will tell the player the opposite of what they should do when the dolls appear(excluding 3 AM). These tips are "Don't look at her", referring to Kiki, "Don't stay still", referring to Mr. Tatters, and "Don't run away from Chester", referring to Chester, obviously. However, at 4 am the white board would say I'll hide you will seek in the dark, which is the truth.
Ad blocker interference detected!
Wikia is a free-to-use site that makes money from advertising. We have a modified experience for viewers using ad blockers

Wikia is not accessible if you've made further modifications. Remove the custom ad blocker rule(s) and the page will load as expected.