WARNING: This article may contain spoilers!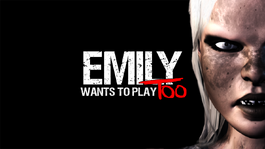 Emily Wants To Play Too is the upcoming sequel to Emily Wants to Play and the second title in the franchise. News was out from the game's creator, Shawn Hitchcock saying that he is working on a sequel title which will also support VR Capabilities (like its predecessor). Shawn Hitchcock published a teaser trailer for the game on Oct 28, 2016. The demo of this game was released Oct 25, 2017, and is said to have the actual release date hidden within.
Plot
According to the demo, Emily Wants To Play Too begins in the protagonist's home, after having a large party. The protagonist has to get to work at 4:00pm at Timmy Thom's Fast Sandwiches. At this point the protagonist decides to get some rest before that time. While the protagonist sleeps, he seems to have the same nightmare he has been having in his previous slumbers. When he officially awakens, he heads to work and attempts to deliver a sandwich order to a location unknown at this point.
Known facts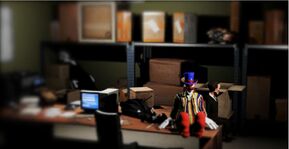 According to the gameplay teaser, all three dolls are sitting on a table, as well as two of the new characters in the background. The camera zooms in to Mr. Tatters and Chester as they smile. Then a first person view of another new character that runs towards the player is seen.
Emily has been confirmed to return to the sequel.
Chester can now follow players into other rooms.
Trivia
The tall clown-like character in the black and white checkered suit, resembles Mr. Tatters.
The puppet or mannequin behind chester resembles chester of his blank face and his head tilted slightly resembles kiki.
The doll looks as if a car ran over it but has no resemblence to any character yet.
The demo has several Easter Eggs (or cameos) hidden within, including the release date of the actual game.Possible release date is either 1st of Feb or 2nd of Jan,it is written on a box in the room with
the puppet or mannequin.
The subtitle of the game "Too" is a play on number "Two" since both words are pronounced similarly and this is the sequel to the first game.
Videos/Photos
Ad blocker interference detected!
Wikia is a free-to-use site that makes money from advertising. We have a modified experience for viewers using ad blockers

Wikia is not accessible if you've made further modifications. Remove the custom ad blocker rule(s) and the page will load as expected.